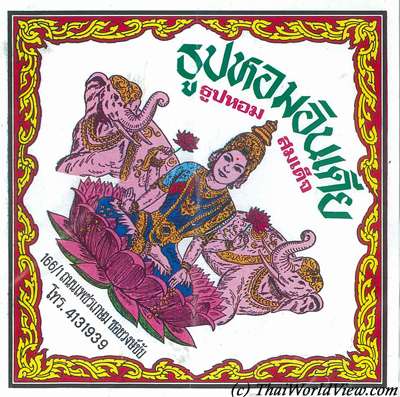 For Buddhists in Thailand, incense is an important element of worship to pay respect to Buddha.
When praying and requesting a favor to the Lord Buddha, Thai people take three incense sticks (ธููป), i.e one for the Buddha, one for the Sangha (สังฆ - Buddhist community), one for the Dharma (ธรรม - teachings of the Buddha), a flower (ดอกไม้ - orchid or lotus, which symbolizes the Buddhist teachings purity) and a small candle (เทียน - it symbolizes comprehension enlightenment). They lit the incense sticks and kneel three times and put the incense sticks in front of the statue.
They cover the Buddha statue with a thin golden leaf to honour Buddha teachings. In case of pain, the thin golden leaf shall be stuck at the same painful location on the Buddha statue.Garlands ("DOOK MALAI" - ดอกมาลัย) are also offered to Buddha statues. Their white color symbolizes the beauty of Lord Buddha teachings. When they get old, they symbolize the life impermanence.Thai Buddhist people also read the future in paper wrapped around sticks. In a box there are a few sticks. They move the box up and down in order that a stick falls from the box. Then they read the paper to know their future.

Buckets are offered to monks as a way to get merit. In buckets can be found many items such as rice, washing powder, medicine, monks clothes, fruit juice, candles, matches, soap, umbrella, sandals, lights, milk, tins, brushing tooth paste and brush, water, toilet paper, noodles. Bulks are wrapped with transparent paper. In some crowded temples, buckets are not opened and are sold again immediately. In fact there are more buckets sold than monks living in the temples. It is just an another way to get merit.