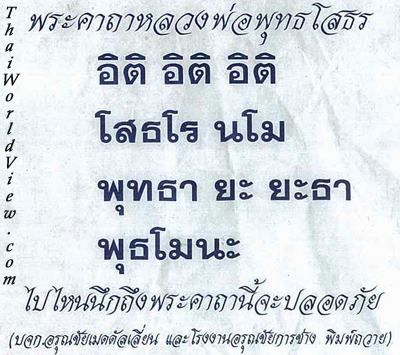 Thai people never buy Buddha statues but rent them.
When renting a Buddha, people can get such paper that states "Wherever you go, think about this Buddha statue and you will be safe".
It is illegal to export antique Buddha images and statues without a license from the Department of Fine Arts. The export of Buddha images and statues is regulated by the Department of Fine Arts. A new piece can be exported by requesting a certificate.
In year 2007, in a small ceremony at Phuket International Airport, Airport Customs officials handed over to the local Museum around 100 Buddha images seized from departing tourists over the past year. Most of the images were seized from tourists who bought them from shops unaware that they needed permission from the Fine Arts Department to take them out of the country.
In year 2008, an increase in robberies of valuable artifacts from ancient temples in Ayuthaya are driving monks to despair. Thieves have even removed gold foil from reclining Buddha images. In old times, people caught in this act were threatened with harsh punishment. Authorities would force-feed them with boiling liquid, the chemical used in the gold-making process! Temple robberies mostly involve the theft of ancient Buddha images and valuables such as dharma cabinets and brass accessories. Few stolen goods are ever retrieved. A source said that the theft of gold foil could originate from rising demand in the Buddha amulet market. Buyers want gold from ancient Buddha statues, which are thought to be sacred, for use in the frames of Buddha amulets. Robbers are targeting antique objects. Many temples have only old monks who cannot fight the robbers. Thieves even steal the eight "sema", leaf-like boundary stones (สีมาเล็ก), from around temple's ordination hall.