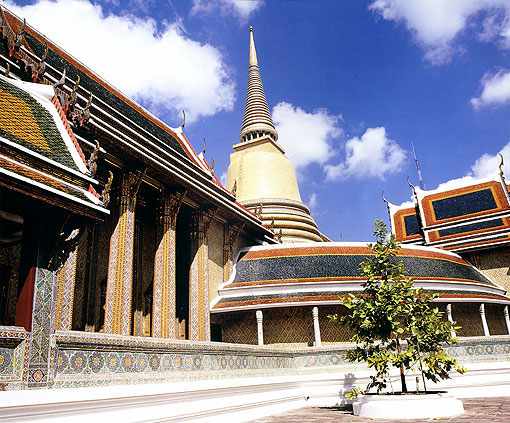 Built in 1869, Wat Ratchabophit was the first temple to be commissioned by King Rama V, who had it built to commemorate his Queen and concubines.
Located in Rattanakosin not far from the Grand Palace, it has distinct gothic elements that distinguish it from other temples in the area. Both the 'wiharn' (prayer hall) and 'ubosot' (ordination hall), for example, have typically Thai exteriors, decorated in hand-painted glazed benjarong ceramics and elaborate gold gilded door and window frames, but European style interiors similar to that of a gothic cathedral.
The ubosot contains a well known gold-gilded Buddha image in the meditation posture, Phra Buddha Ankhiros, and rests on a base in which the ashes of Rama VII, who later inherited the temple, are kept. Instead of the typical eight sema, or boundary, stones are eight stone pillars surmounted with a carving of the Buddhist wheel of law.
An impressive chedi modelled after the famous Phra Pathom Chedi in Nakhon Pathom province (the highest Chedi in the world), contains relics of Lord Buddha, while the enclosure around it contains many Buddha images in varying postures. There is also a royal cemetery with monuments containing the ashes of the Queen, concubines, sons and daughters of King Rama V, and various other member of the Royal Family.
Open: 09:00 - 18:00
Where: 2 Fuang Nakhon Road, Phra Nakhon