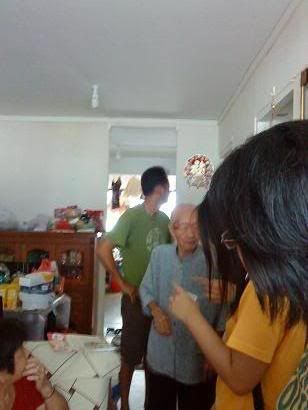 She was showing us the name card of the doctor who will be performing the surgery for her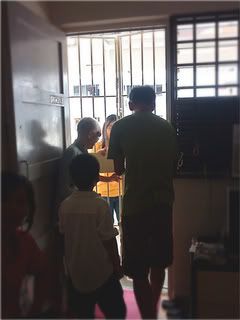 Trying to fix up her door....
If anyone who has watched the mediacorp show 22/2 last monday " Life Transformer 2" 心情大动员" then you will know who is that " Ang Po Po". Just in case u didn't watch it. Ah ma is 80+ this years, she has a tumour on her face which was cancerous (
latest update when i visited her this morning she will go for her surgery soon, the doc will do it after some reviews, dates not fixed yet, but will sure remove it
). She has 2 daughters & 1son (
elder daughter got kidney failure, 2 daughter not very intelligent, son got diabetes and can see one whole basket of medication on the floor
). They live without light for 15years( thanks to her daughter, set fire on the light, no$ to fix so rely on the lights from corridor, even it's fixed now, she told me "
don't want to use lah, heart pain the bills, can use the light from outside to read
). Despite all these she is really one who never gives up. She has this antique dictionary which she uses it when she can't understand the words, Thumbs up! Ah ma).
The show feature that when one of the host found a packet of rocks liked rice in the fridge, she ask her permission to throw away and that's when ah ma say "
Don't throw, i've kept it for ONE YEARS already, can still eat. just soak in water then can cook and eat, i've taken alot already
" this is how ah ma survive all these years... she will "stew" one whole pot of veggie using the chicken from neighbour and eat it for 2 months". It's been years since she last had fish and when ask if she is craving for fish her replies "
no no no, i don't want to think about it. It's sad when i think and can't have it, then i'll die with regrets, i don't want to have regrets in life when i'm gone".
This is a really touching series and it's real, not just a SHOW. It really shows us there are alot of unfortunate families who needs help in Singapore, ok let's not talk about why govtment is not helping blah.... As a singaporean and as a human being, when we see people out there suffered, all we wants is to help as much as we can, even if it's only minimal we can do, but at least we help. We all have everything, but we still complains. We alway said people from other country so poor thing, needs help, come on, we fellow s'porean needs help too, don't just bring money out of Singapore, use it in a better way to help fellow countrymen!
做人真的要知足,也要懂得把心放开,那样在大的困难与挫折都不会把我们打倒!母爱的伟大让这位老婆婆到了一把年纪了还要替孩子们操心,心里面永远最放不下他们,再大的痛苦,身体的痛楚都阻止不了她想要照顾他们的心。原本应该是让孩子照顾的时候却没有享福过,问她可曾后悔,她说这是命。。。。我说。。。这是母爱。。。这是人性。。